JOURNAL OF MY TOUR BY JEEP OF THAILAND, CAMBODJA AND VIETNAM
NOVEMBER, 1956 , page14

---

The Khmer ruins dating to the four centuries from 800 to 1200 A.D. principally lie north of Tonle Sap, spread across several hundreds of square kilometers of jungle, and mainly centered about Angkor Wat: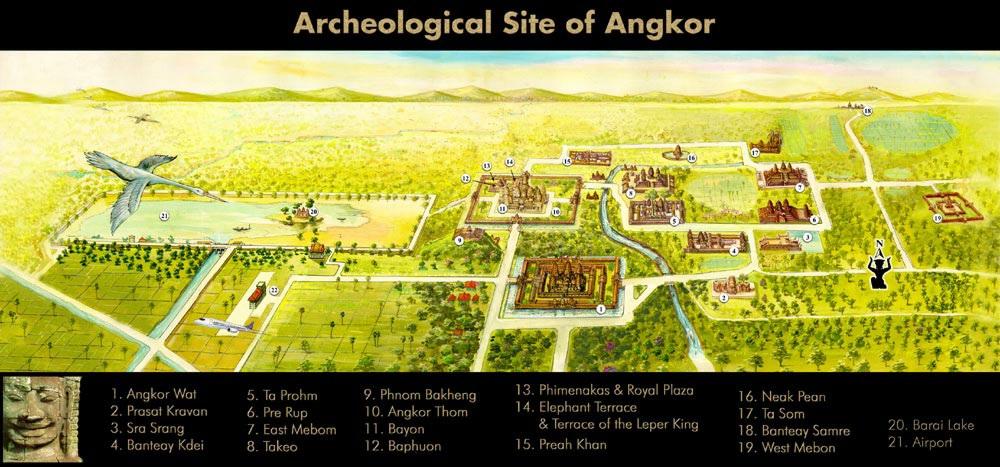 Three groups can be recognized:


Angkor Wat itself, Angkor Thom and the Baray group.
The various ruins are connected by good asphalt roads. There are two circuits, the "Grand Circuit" and the "Petit Circuit" – if one follows the latter, one misses most of the ruins of the Baray group. The roads pass through beautiful high forests in which one frequently sees monkeys and which undoubtedly house much wildlife.

I was very intrigued by the idea how many more ruins could be discovered which are still hidden and choked by lianas. While I watched, a group of archaeologists searching the forest with very primitive tools, they uncovered a stone at the bottom of a six foot deep trench.
When I returned six months later, I noticed that this stone had only been part of a long Naga , a stone snake of which by then some 100 meters had been uncovered!

The Naga is also the mythical snake whose milk is being churned along the road at the gate to Angkor Thom (left)
(The Royal barge of Thailand has a <! img src="Thai_55f.jpg" width="36" height="55" alt="">seven-headed Naga at the prow.)
---
BLO fecit 20010321 --- next page ---contents autobiography