JOURNAL OF MY TOUR BY JEEP OF THAILAND, CAMBODIA AND VIETNAM
NOVEMBER, 1956 , page15
---

The thought of architectural treasures still to be found in jungles baffled me. Angkor itself was only uncovered in 1859, by the French explorer Mouhot. Wat Praviharn, the wondrous temple at the border of Cambodja and Thailand, only received some attention a short while ago, while further north, at Phimai, some 60 kms east of Korat, we came across a large Khmer ruins far beyond the reach of tourists.
Of all presently known Khmer ruins, Angkor Wat is the most famous. Surrounded as it is by a wide moat, it looks more like a fortress than a holy place.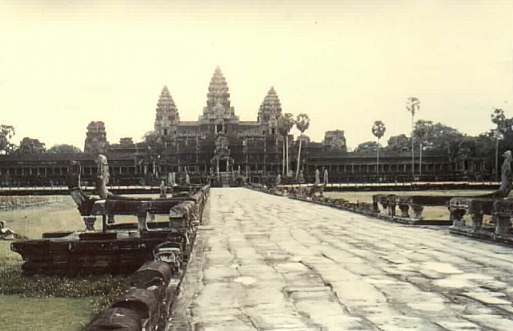 A laterite wall follows the pond and within the resulting rightangle of 1,000 x 800 m. lies the temple proper. When you approach along the causeway on the west side, you first see a gallery topped by three towers and containing some very elegant and well preserved bas reliefs covering the walls from top to bottom with scenes from Brahman myths and sagas. Practically no centimeter has been left unadorned, which causes some problem to get accustomed to. Ever recurring are groups of images looking alive in the greatest detail. Even such legendary figures as garudas, nagas, unicorns and draggons do appear natural and do not astonish you, for it looks as if the artists actually copied them from life.


---

BLO fecit 20010321 --- next page ---contents autobiography --- Angkor, random link