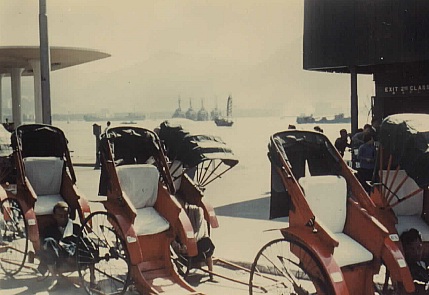 rickshaws at the ferry dock,
from where you can take as cheap and glorious a sightseeing tour as you can from the doubledecker trolleys
Frank even entrusted me with the Bank's sailboat and his Australian girlfriend, a charming radio announcer. I took her sailing in the harbor and headed straight for the incoming U.S. Aircraft Carrier "Bennington" ....stating that sail has the right of way. When we were precariously close (the vessels, I mean), I was pleasantly surprised to see that the Bennington made a ninety degree turn, so I could maintain course and inwardly proud impress my sailing mate !

but on our subsequent visit aboard
I found out that she (the Bennington)
had had to round a buoy to get to the
anchoring spot from which I took this shot.